In order to always better receive you and improve the quality of tourism services in France, the State has created the QUALITE TOURISME™ brand.
This mark selects and federates under the same symbol the quality approaches engaged for your satisfaction in the hotel business, the tourist residences, the vacation villages, the camp-sites, the restaurants, the cafés and brasseries, the agencies of seasonal hirings, the tourist offices, the places of visit and the activities of full nature.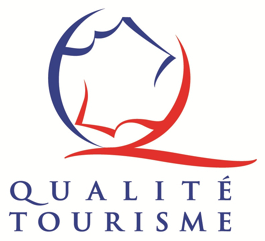 What are French tourism professionals committed to?
Quality of welcome and services, professionalism, and promotion of local resources are among the essential values of the brand.
Thus, professionals who display the QUALITE TOURISME™  are committed to offering you :
A warm welcome
An attentive staff
Mastery of foreign languages
Customized services
Clear and precise information
Cleanliness and comfort assured
The discovery of a destination
Taking into account the opinions of customers (thanks to the systematic analysis of satisfaction surveys and complaints).
Tables & Auberges de France has signed a partnership agreement with HESILMA, if you wish to obtain QUALITE TOURISME™ you can contact our offices at contact@tables-auberges.com